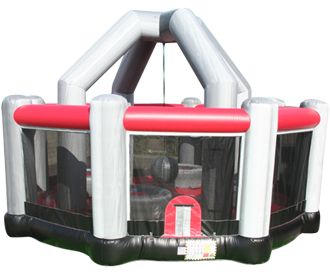 Dimensions for setup: 31'
Each opponent stands on an inflated box and swings the 'Wrecking Ball', made of foam rubber, trying to knock-off the other players. The challenge is maintaining your stability on the box, which is slippery and designed to keep you off balance. One of our most popular teen and adult games.
Chaperone: If you need a chaperone we can provide one for an additional charge of $20.00/hour. Please let us know within 2 weeks of your reservation date.

Price per day: $350.00 (includes NYS sales tax, set up, removal and delivery). $25 deposit is required to hold your reservation. Full refund of your deposit is available for cancellations prior to two full weeks of your reservation.